Thoughtful, Intuitive Design
Easy to use, with every detail thought through, to maximize efficiency and minimize steps.
Organize your day, manage patient workflow, save time with a host of integrations, and keep your finger on the health of your practice. NaVetor contains all the features you'd expect from an industry-leading Cloud Based Veterinary Practice Management Software​.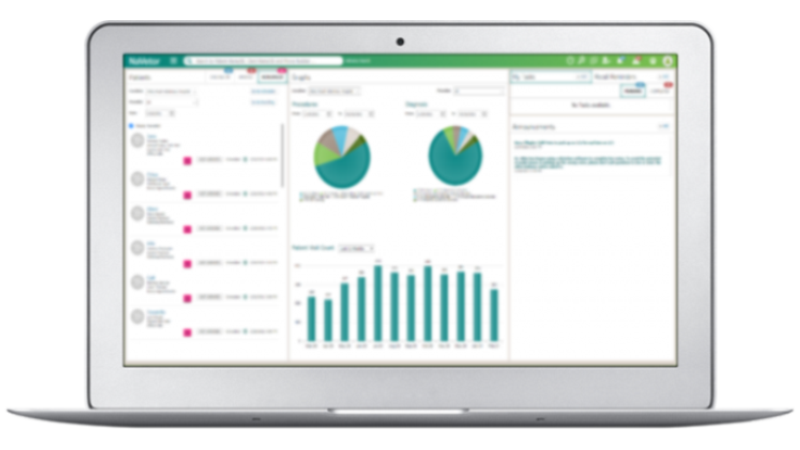 Save clicks and time with workflow management tools that keep you on track and help you move quickly from task to task.
View important information, consolidated within handy dashboards.
See upcoming appointments, checked-in patients, all-staff announcements and notifications.
Check patients in when they arrive – right from the dashboard.
Customize the appointment calendar to view single or multiple appointments, and facilitate easy check-in, blocking, scheduling, and rescheduling.
Manage boarded patients with the boarding module included with your subscription. Easily schedule, check-in, manage, check-out, and invoice boarded patients.
Use Treatment Sheets to manage patient care with automated checklists and task assignments.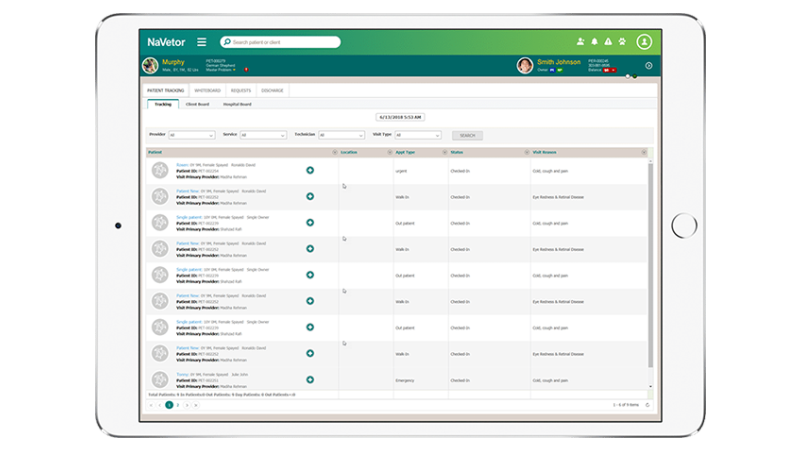 Maintain a quick snapshot view of everything happening within your veterinary practice with NaVetor's finger-on-the-pulse whiteboard.
See status, location, and appointment details of all checked-in patients.
Project a client-friendly view into your waiting room or on your website, where clients can see the status of their pets.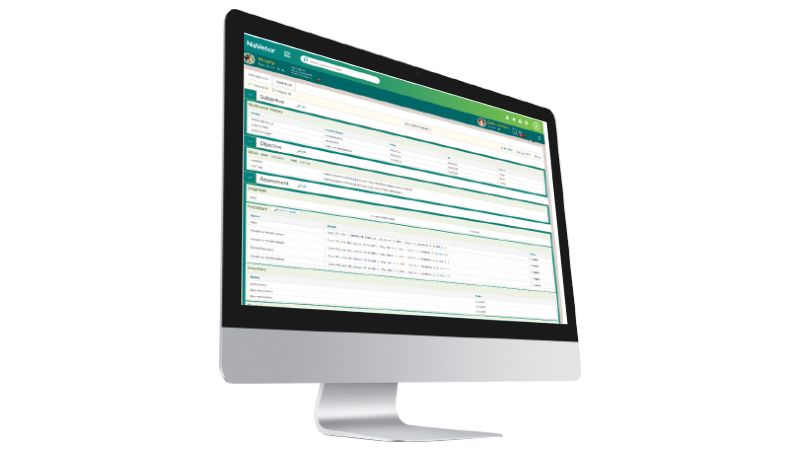 Efficiently create and maintain paperless medical records for each patient, so you can make better decisions, manage treatment plans and capture charges electronically.
Track patient visits, SOAP records, treatments, and client communication via phone/email/text – all in one place.
Check patients in right from the calendar, which also creates a ready-to-use SOAP record at the same time.
Identify, administer, and evaluate the best treatments possible with built-in treatment plans. Create templates for treatments you prescribe often to speed up your workflow.
Treatment plans are tied to invoicing, inventory and data analytics for a full picture of your business and financial health.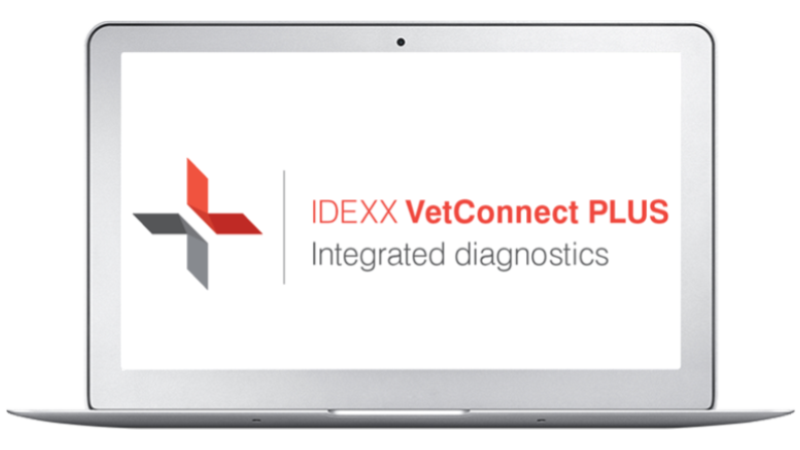 Save time. Eliminate manual data entry. And capture every charge. NaVetor now offers two-way integration with reference labs and laboratory equipment from IDEXX, Antech, and Zoetis. You can automatically request lab tests from the software and download results into the patient record.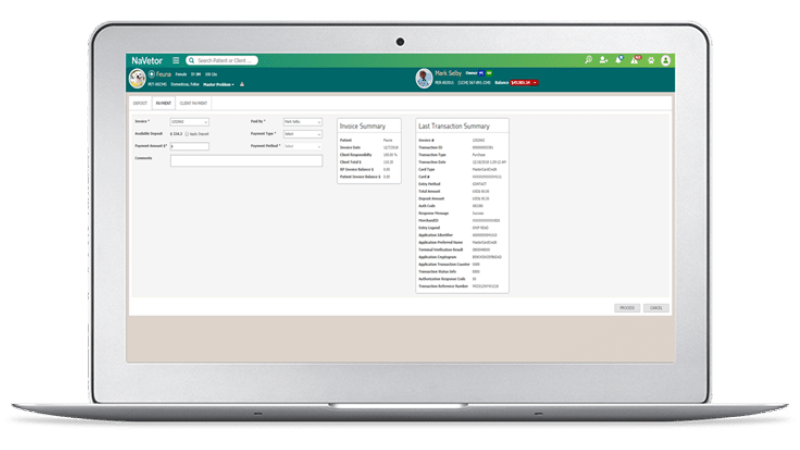 Swipe your client's credit or debit card to instantly process payments with integrated, secure payment processing. Within NaVetor, simply turn on the integration with Global Payments Integrated to enjoy:
The ability to accept credit and debit card payments from any workstation in your practice.
One of the industry's most secure platforms, combining encryption, tokenization, PCI and EMV standards.
Real-time cloud-based reporting.
Around-the-clock customer service and tech support.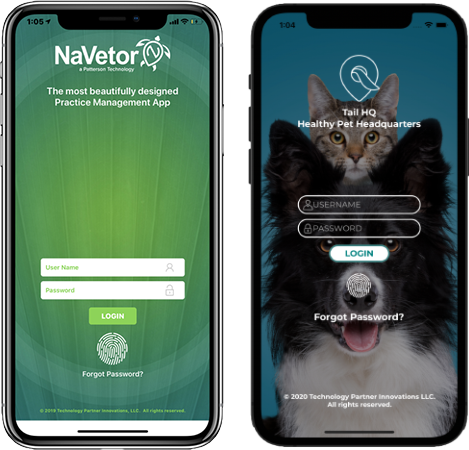 NaVetor now comes with two handy mobile apps – part of your software subscription! The internal NaVetor practice app allows you and your staff to complete most client-facing tasks, from check-in to check-out, on a phone or tablet. It's the only veterinary software mobile app that allows you to:
Add new clients and patients, or add additional patients to an existing client
Check patients in and out
Update the medical record with findings, diagnoses, and treatments from an exam
Prescribe medicine
Create new invoices and accept payment
Tail HQ is NaVetor's new mobile app for pet owners, which helps your clients help themselves. They can book appointments, request refills, access vaccination records, and more. Combined with NaVetor cloud software and the NaVetor practice mobile app, all three technologies work together to streamline workflow and improve client communication. It's a trifecta for practice productivity.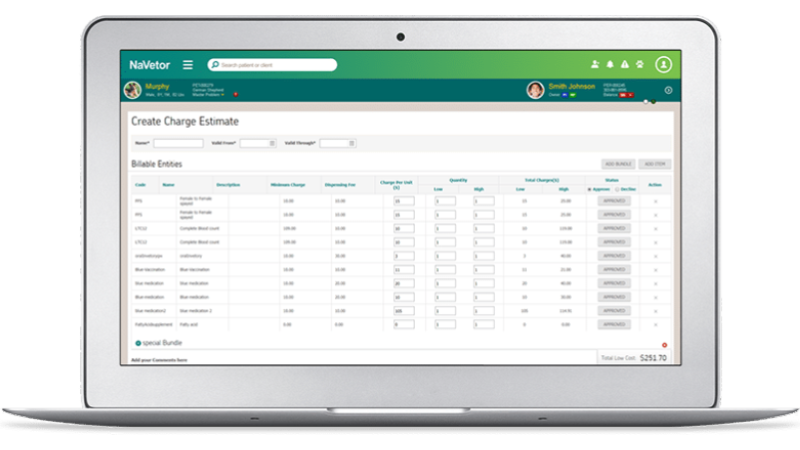 Streamline administrative processes and easily manage the business side of practicing veterinary medicine.
Capture charges in the electronic medical record as services are performed within the treatment plan and automatically include them in the client invoice.
Easily create estimates for recommended procedures, with expiration dates automatically set.
Capture pet owner signatures electronically to verify acceptance of procedure costs.
Track deposits for certain procedures in advance, without applying them to an existing past-due balance.
Manage your business with comprehensive reporting. Any of NaVetor's reports can be easily exported to .XLS, .PDF, or .DOC files.
View important key performance indicators that measure the health of your practice, such as performance by provider, patient compliance and more.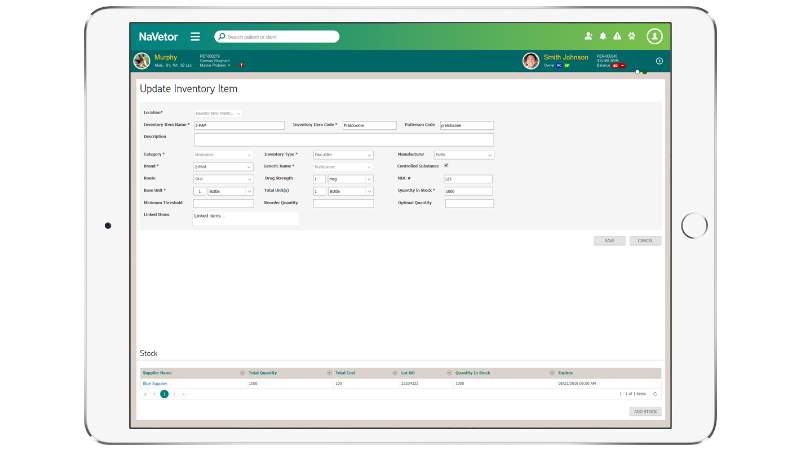 Save time and improve accuracy when you manage your inventory electronically. NaVetor's intuitive, streamlined approach allows you to quickly and easily add or update the products you keep on hand.
Easily add an item to a purchase order or update products received.
Integration with eShelf connects you directly to the Patterson order process.
No extra modules to add. Comprehensive inventory management is built right in.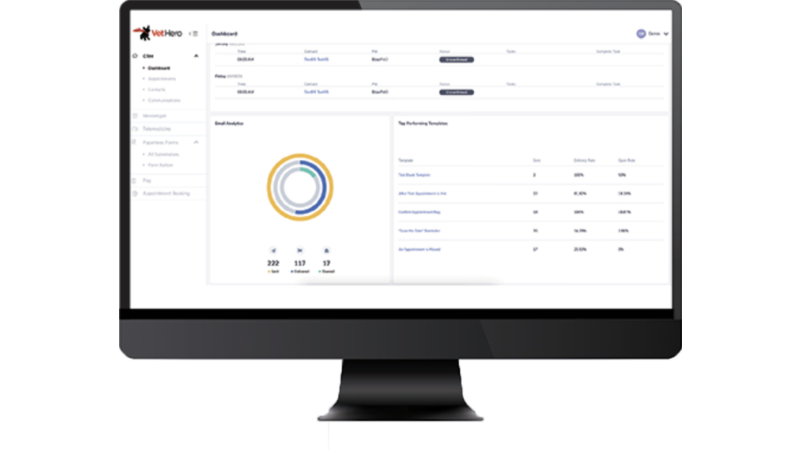 Great client communications is a hallmark of great veterinary practices. Easily send text and email reminders right from NaVetor, and use the handy integrations with the ePET or Vet Hero suites of client communication tools help you market your practice, increase compliance, drive revenue, and manage online reputation.
Request a Demo
Inspired by what you've seen? Interested in seeing how NaVetor can work in your practice? Contact us to set up a personalized demonstration of the software.
Sales: 877-422-8838