We're always looking for ways to streamline workflows and minimize steps. To that end, we're excited to announce new updates for your NaVetor software!
Since NaVetor is cloud-based, there's no need to manually download updates or stop operations while workstations load the latest version. It all happens seamlessly in the cloud!
Training Guides
Easy access to software training! Billing, Medical Record, Inventory, Reports, Scheduler and Settings are now available as downloadable manuals. Simply navigate to the user menu in the upper right hand corner and select the Training menu item.
Credit Card Integrations
NaVetor's new integration with Open Edge allows for your credit card payments to populate automatically in NaVetor. In addition to the normal charges you process for purchases, returns and voids are now part of the integration! If you are interested in finding out more about the integration we have with Open Edge payment processing, please contact our sales team at 877-422-8838 or by email at sales@navetor.com.
Letter Document Designer
The Letter Document Designer now has a choice for adding an email merge field.
Health Service Plans
Inventory Reminders can now be added to your Health Service Plans. To easily add items to your existing Plans or to create a new one, just go to Settings > EMR > Health Service Plan.
Updates to Invoicing
We've made a few updates to this critical software function:
When an invoice is finalized, the patient will be automatically checked out.
You will now see a prompt to save any unsaved changes to an invoice, before navigating away.
When adding an item to an invoice, a "unit dropdown" is added under the quantity column. This will allow you to easily pull in pricing for single units, such as a number of tablets, vs bulk items, like a case of dog food or a box of flea/tick preventative.
Attachments Available
In the clinical summary area, if there is an attachment of any kind tied to an Encounter, a paperclip icon will show to indicate this.
Updates to Rabies
On the patient registration screen, you will find the fields for Tag Number as well as Rabies Tag. All Rabies information should be entered in this field so it will pull in correctly on the rabies certificate.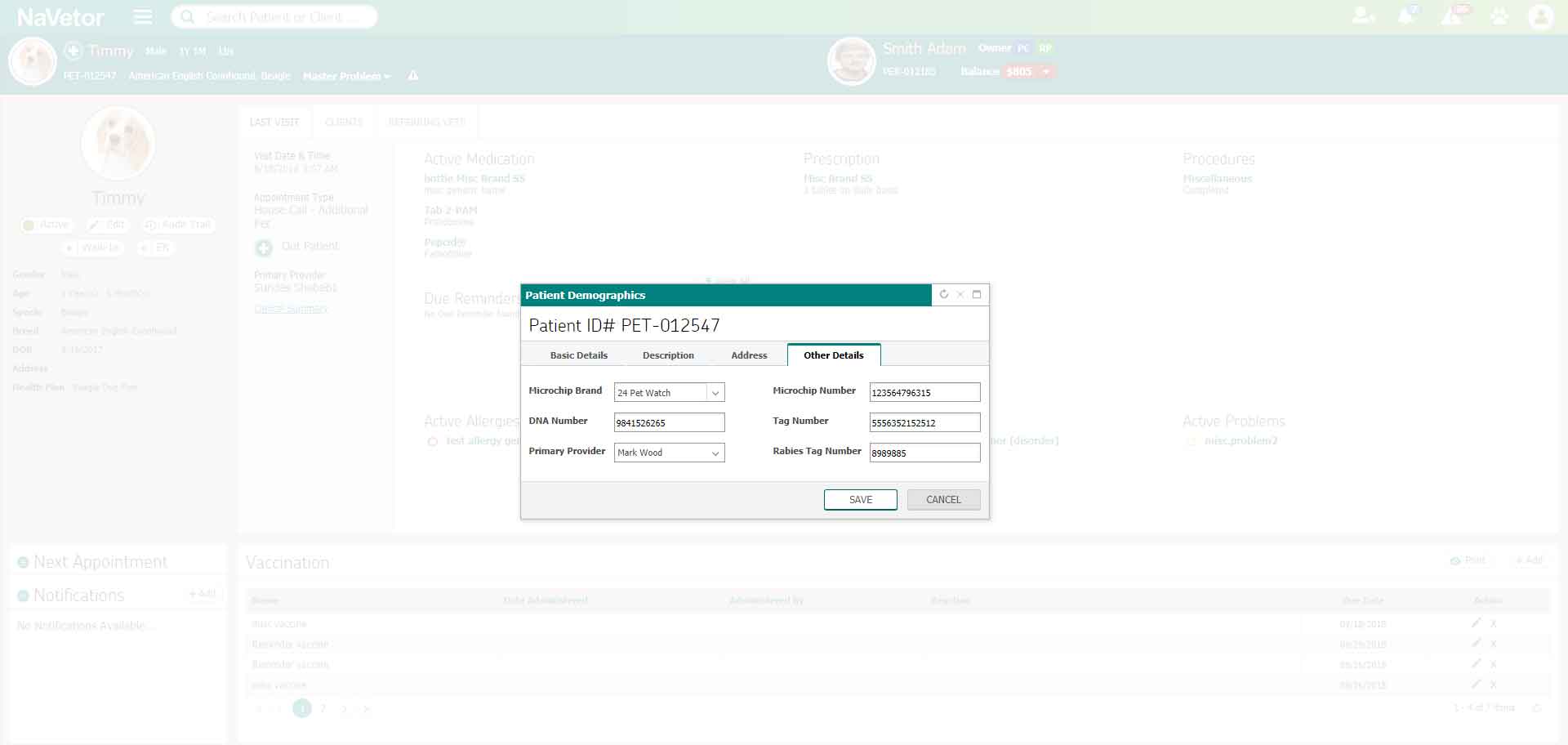 Speaking of certificates, the Form 51 Rabies Certificate has been added! In order to get the certificate to print:
Make sure your rabies vaccine is linked to an inventory item.
In the Plan, add the rabies vaccine, making sure the Plan is saved.
Navigate to the invoice screen, and open the invoice associated with that Plan.
Add any needed additional items.
Finalize the invoice.
Go back to the invoice, and now at the bottom of the screen, you will have a new option: Print Rabies Certification.
Request a Demo
Inspired by what you've seen? Interested in seeing how NaVetor can work in your practice? Contact us to set up a personalized demonstration of the software.
Sales: 877-422-8838