NaVetor's latest software update improves scheduling and invoicing for your veterinary practice. Here's a peek at the new features you'll see in our latest version the next time you log on.
Multi-Pet Scheduling & Invoicing
Now, more than one patient can be added to an appointment and be checked-in, which will allow these patients to be invoiced at the same time if needed. This particular update will help streamline the workflow in your practice for clients coming in with multiple patients. We have attached a detailed PDF guide for you to review or download to become familiar with this new multi-pet functionality.
Invoice & SOAP Sync
With this update, if an item is added either to the SOAP or the invoice, the change will be reflected in BOTH areas!
This feature includes a permissions update that will allow a NEW invoice that is started to create a SOAP automatically.
To enable a user, navigate to Settings > Admin  >> User Group.  Upon selecting, expand to:  EMR Module > EMR Clinical >> View Clinical Overview >>> View/Add Document >>>>Create SOAP Note.
Add Bundles in the SOAP 
Similar to adding Bundles in the invoice, you can now add Bundles directly from the SOAP. In the Plan section, the Add Bundle option will be available on the right-hand side of the screen. When clicking on Add Bundle, you'll see a similar view as when choosing that option from the invoice.  As you add bundled items, they will show in their respective areas – Procedures, Inventory, etc.
Objective Area of SOAP
In the System Exam area in the Objective portion of the SOAP, comments can now be added, regardless of the status chosen for the system exam.
Viewing Previous SOAP Notes
In the SOAP, you'll now be able to view previous patient notes, without needing to change screens. On the right-hand side of the screen, there is now a tab called "Notes."
When choosing this quick access tab, the previous notes for the patient will be displayed.
Each Note can be expanded to see previous information that was entered. You can also enter information into the search field, to filter the notes down further.
Adding a Note Encounter
You now have the ability to create a Note Encounter without being required to create a SOAP or Invoice. After selecting Note for the Encounter, you will choose which type the note is by selecting Phone, Email, or Fax.  This will display the appropriate icon for that note.
Number of Encounters
On the Encounters Tab in Medical Records, there is now a number displayed to indicate how many encounters have been created for the patient.
Declining Items
With this release, in addition to being able to decline vaccines, you will now be able to decline Medications, Procedures, Inventory, and Lab Tests from the SOAP. The declined item can either be temporarily or permanently declined. As items are declined, they will display in the individual SOAP involved.  All declined items will also display on the patient dashboard.
SOAP AutoSave Feature
The auto-save feature for the SOAP will allow users to walk away from their computer and not lose any information that was entered into a patient's SOAP notes. The feature will automatically kick-in after 60 seconds of inactivity on a device. To enable this feature, navigate to Settings > Admin >> My Practice >>> Practice Settings >>>> Medical Records.
Enable NaVetor App Access for Staff
When setting up or editing users in NaVetor, you can now grant access (or disable) access to the NaVetor App!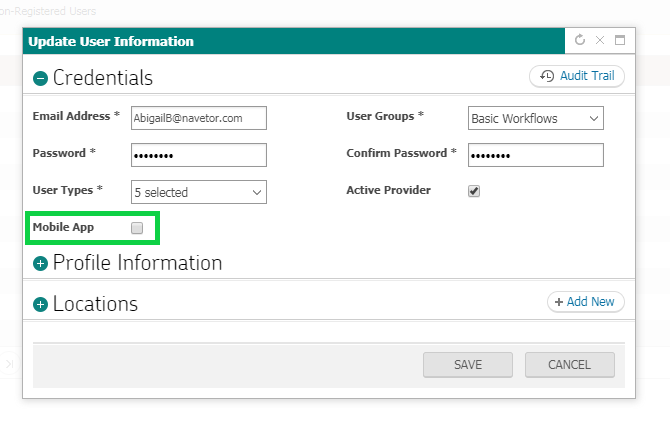 We are here to help!
Our support team is here to help, so please feel free to contact us if you have any questions about our beautifully easy cloud-based practice management software. You can reach us via phone at 833-NaVetor (833-628-3867) or by email at support@navetor.com.